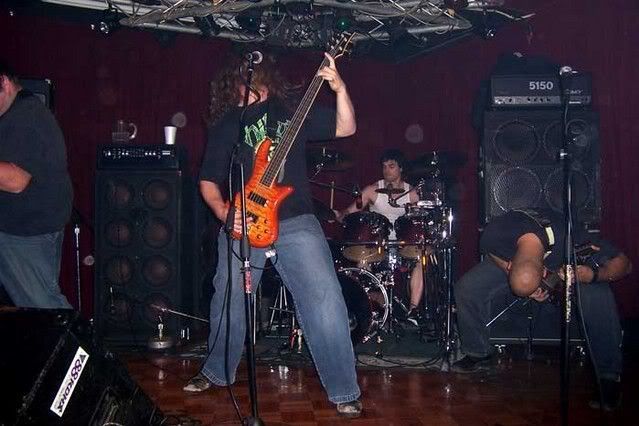 Von Young dari Deaden adalah orang yang 'mengajak' saya masuk scene musik US brutal death metal. Lewat ia , (kemudian Dave Kibler/Lividity) saya mulai kenal musik musik sadis band death metal amrik; mulai dari band band kecil yang serem sampai band band gila seperti DEEDS OF FLESH , DYING FETUS dan CRYPTOPSY. Lewat bantuan Von (langsung/maupun tidak langsung) saya bisa kenal secara person dengan Erik Lindmark, Jason Netherton, dan orang orang penting scenester Amrik. Jauh sebelum internet memudahkan semuanya.
Tapi bukan lantas itu saya memutuskan menginterview nya. Dasarnya sederhana aja , ia masih aktif di Deaden/Lividity, punya label sadis Epitomite Productions, dan masih komit untuk dunia brutal death metal. Here we go mudah mudahan ada yang bermanfaat dari obrolan saya ini buat kalian.
1. hallo Von , apa yang ngebuat kalian mengaktifkan lagi Deaden di tahun 2004
setelah break panjang , karena udah waktunya atau respon untuk permintaan fans
yang luar biasa (termasuk saya..ed)?
- well sebenarnya kita juga pengen bener bener quit sama sekali, ya banyak hal
lain dari kehidupan kita yang harus kita hadapi. Ya banyak orang yang
mengontak saya nanyain materi baru atau show-show, atau kapan kita bakal
balik (ke dunia musik bawah tanah). Kita udah punya banyak materi lagu yang
udah kelar sebelum kita break, lalu saya nambah nulis materi lagi, telpon
anak anak dan kami balik bergerak lagi..
2. Lalu kenapa dengan Danny Hughes (bass/vokal)? Bagaimana kamu menemukan Jake
Lahnier? Apa yang ngebuat kalian merekrut Jake untuk gantiin Danny?
- Well, Danny udah ga mau ngeband lagi. Jadi saya ketemu ama Jake lewat
temen seorang tattoist dan kita langsung ajak bergabung dan semua berjalan
begitu cepat dan mudah.


3. Kalian merilis Displaying The Art Of Carnage. Bisa cerita soal album ini ?

- ya kita ngrampungin album itu tahun 2006. Beberapa lagu udah digarap dari
tahun 1998-99 seperti Only Genitals Remain, The Mind Of, Perverted Fecal
Embodiment, and Vomiting Felch. Lagu lainnya adalah materi baru yang
saya tulis setelah kita ngumpul lagi. Saya senang dengan hasil akhir dari
lagu lagu tersebut.

4. kalian kayaknya mencoba hal yang berbeda di album ini. Kenapa kalian ngambil
keputusan ini? Trus bagaimana respon nya? Banyak ga orang yang membanding
bandingkan album ini dengan debut album kalian?

- Well orang selalu membanding karya kalian sekarang dengan karya kalian
berikutnya. Ya selalu seperti itulah alurnya.Emm kita sih ga bikin sesuatu
yang berbeda dengan album Displaying, tapi saya rasa kamu mengarah pada
fakta semua di album itu ada sound yang continous. Tapi sebenarnya itu yang
ingin kita lakukan pada album "Hymns of the Sick" tapi kita ngga punya
budget untuk itu. Saat itu kita masih muda dan ga punya label. Tapi sejak
awal tujuan kita adalah punya album yang dari awal sound nya
berkesinambungan tanpa ada jeda sama sekali. Saya sangat senang dengan
hasilnya akhirnya. Responnya sejauh ini sangat bagus, jadi kita ngga punya
keluhan

5. Puas ngga sih dengan hasil di Displaying...? kalo kalian berusaha menciptakan
atmosfir dari alam pikir seorang serial killer, kalian sukses mencapai level
itu...ada tujuan khusus mencreate album ini?

- 100% puas. Memang itu tujuannya, menciptakan atmosfir yang bisa sejalan
dengan element horror dari musiknya.

6. kamu yang bertanggung jawab untuk semua lirik di album Displaying , dapet
inspirasi dari mana ? Bener bener " sakit". Seolah kamu adalah psikopat beneran
ha ha..
- hahah makasih, kayaknya iya!! Yup memang saya yang menulis semua lirik di
album itu. Saya coba menempatkan diri pada aspek tertentu dari topik yang
saya tulis. Saya sangat menghargai kata kata dalam lirik saya. Saya bukan
fan dari lirik lirik gore yang konyol. Saya pengen ada sisi realistis nya
dalam liriknya. Sesuatu yang kamu percaya. Itu membuat suasananya lebih
menakutkan


7. Kamu bilang ga banyak yang terjadi di camp Deaden. Banyak Main live ga nih ?
Kalian kan terkenal karena performance yang heboh. Coba ceritakan situasi live
nya Deaden !

- emang ga, kita kayak dulu lagi kembali ke poin ketika start awal, balik
ke kehidupan kita masing masing. Saya rasa kita merilis album untuk
mengisi kekosongan antara kita dan fans. Kita sempet main 3- 4 show
setelah kita gabung bareng lagi, tapi sekarang anak anak lain ga berminat
melakukannya lagi. Saya mengisi ruang kosong itu dengan main bareng
Lividity sekarang, dan itu ga masalah buat saya. Soal performance kita
cuma mencoba menghasilkan show yang bagus. Pokoe kita en musik. Kita ngga
nglakukin stage shit yang bodoh dan dandan dengan konyol, kita cuma naik
panggung dan main


8. Kamu kan sibuk dengan label kamu Epitomite Productions. Bisa cerita tentang
label kamu? Gimana cara kamum milih band masuk ke roster kamu ?

- yeah saya bikin EP di 2005. itu adalah hal yang say ingin lakukan selama
ini, dan akhirnya saya bisa mendirikannya di tahun 2005. seperti label
lain, saya bakal ambil artis yang saya pribadi sukai terlebih dahulu dan
kemudian mencoba mendorongnya agar orang lain bisa dengerin juga .
Kita baru aja merilis rilisan ke 16 , Angerpath's -Forgotten World.
Materinya keren!

10. kamu juga sibuk dengan LIVIDITY. Faktanya, kamu lebih sibuk di Lividity ,
merilis banyak materi yang killer, main di eropa sering banget. Bisa ceriat
keterlibatan kamu di Lividity.

- Lividity emang sangat sibuk, yang artinyakita lagi nulis materi untuk album
baru kami, " To Desecrate and Defile" dan kita udah selesai 6 lagu kurang
lebih.It's sounding great!!!
Yes kita juga banyak tur overseas. Kita balik lagi di April nanti untuk
tur Eropa lagi, trus main di Austria (Kaltenbach Fest.) mungkin ada 1 fest
lagi, tapi kita juga musti masuk studio Juni untuk rekaman, merilis album
di bulan september (rencananya), lalu tour Canada 7 hari di bulan
October!! sibuk banget ya.

11. dengan Epitomite , Lividity , apa kamu masih punya waktu buat Deaden ? Masa
depan buat Deaden kayak apa nih ? ada rencana ? Dibanding label dan band kamu
satunya itu , kamu bilang gak banyak yang terjadi di Deaden ?
Apakah kamu bisa ngasih garansi kalo aktivitas lain kamu itu ga bakal mematikan
(deaden = mematikan) band kamu ini ?

- Yeah Deaden kayaknya jadi mundur lagi nih. Tapi kalo anak anak gak total
dalam melakukan show buat Deaden masuk akal buat saya kalo melakukannya
bersama dengan Lividity. Gak masalah buat saya. Saya ga keberatan kok asal
saya bisa aktif ngeband terus, karena itu yang matter buat saya.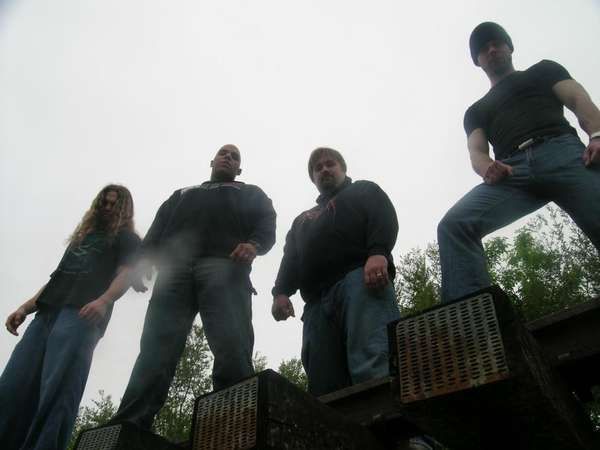 12. dengan Lividity, kamu sering main luar negeri. Gimana dengan Deaden ?
Apakah Deaden punya kesempatan yang sama ? Kapan kalian mempertontonkan seni
pembantaian (displaying art of The carnage) di depan penggila metal indonesia?

- Well kita malah perlu memainkan Lividity di depan kalian freaks as well
hahaha. Tapi ya ada tawaran show and tour buat Deaden di luar negeri dan
dimana aja. Tapi kayaknya gak bakal kejadian segera tuh.

11.. yang terakhir , ceritakan upcoming stuff dari kamu Von
(Deaden/Lividity/Epitomite productions), thanks buat waktunya! keep up
displaying the art of sickness

- Thanx man saya mengapresiasi untuk support di front manapun. Gak ada yang
baru dari Deaden, tapi waspadai album baru Lividity tahun ini. Rilisan
Epitomite di 2009 adalah album baru Viscera Trail dan album baru Domination
Through Impurity (featuring Joe Payne / Ex- Nile and Divine
Heresy)

Check these spots out for more info on all
www.myspace.com/deaden
www.myspace.com/lividity
www.myspace.com/epitomite
www.epitomite.com



Thanx and keep it sick!!!!
EPITOMITE PRODUCTIONS
PO BOX 286
BONDVILLE, IL
61815 - USA
Available now
LIVIDITY- LIVE FORNICATION CD
LIVIDITY- Til Only the Sick Remain CD
DEAD FOR DAYS- Disassociated From Reality CD
OUT JULY 2008
IMPETIGO- LIVE TOTAL ZOMBIE GORE HOLOCAUST!!!!!

www.epitomite.com
www.myspace.com/epitomite



English version



1. hello von , what actually made you guys reactivate Deaden again in 2004 after a
long break, is it because it was the time or the response for overwhelming
requests from fans (including me)?

- Well we had never really wanted to quit at all actually, just different things in our lives kind of took over. There were a lot of people that would write me and request new material or shows, or when we were getting back together period. We had a lot of material written previous to taking our break, then I started writing more, called the guys and started getting everything back in motion.

2. what happened to Danny Hughes ? How did you find Jake Lahnier ? What made you
guys take Jake as replacement for Danny ?

- Well, Danny didn't want to be a part of the band anymore. So I had met Jake through a tattooist friend and we brought him into the fold pretty quick and easily.

3. You have Displaying The Art Of Carnage under your belt. Can you tell us about
album ?

- Yes we finally got that done in 2006. Some of the songs were from 1998-99 like Only Genitals Remain, The Mind Of, Perverted Fecal Embodiment, and Vomiting Felch. The rest of the album was all new material I wrote after getting back together. I am happy with the way all the songs came out for sure.

4. you try something different in the last album . What made you take this
decision? How 's the responses so far ? Did a lot of people compare the latest
one with the debut ?

- Well people are always going to compare you last work with what you are presenting next. That is just the way it goes. Um its not that we did anything really different with Displaying, but I think what you are referring to is the fact that is all continuous sound. That is actually something we wanted to do with "Hymns of the Sick" but we didn't have the budget in those days being so young and no label at the time. But what our goal was to have an album that was from start to end was noting but sound, with no silence at all. I am very happy with the way it came out. The responses have been great so far, so we have no complaints.

5. are you satisfied with Displaying ...? if you tried to create the atmosphere of
the mind of serial killer, you have succeeded to reach that level.any certain
goal to create this album ?

- 100% satisfied. That was exactly the goal, to create an atmosphere to go along with the horror element of the music.

6. you are responsible for the lyrics on Displaying.... where do you get the
inspiration ? It is very sick. As if you are a psycopath itself ha ha..

- hahah thanx I think!!! Yes I wrote all the lyrics for the album. I try to put myself in the certain aspect of the topic I am writing about. I appreciate the kind words about the lyrics. I am not a huge fan of the silly gore lyrics, I want there to be a realistic side to them. Something you can believe. Makes it a bit more horrifying.


7. you told me there a not much happening in the Deaden camp at the moment. Do you
guys play live a lot ? You guys are known for the great performance. Tell us
the situation of a Deaden show.

- No we are all kinda back at that same point where we took time off, just getting back to our lives. I think we just needed to record this album to fill a void for us and for the fans. We played like 3-4 shows after getting back together, but the other guys just aren't into doing that anymore. I fill that space doing Lividity now, so its ok for me. As for the performances we just tried to put on a good show. It was just us and the music. We didn't do stupid stage shit or dress in goofy shit, just got up there and played


8. you've been busy with Epitomite Productions. Tell us about your label !
Tell us how you pick up the band for your roster ?

- yeah I started doing EP in 2005. It was something I had been interested in doing for a long time, but I finally went a did it in 05. Just like any label, I am going to pick artists that I personally enjoy first and then try to push it so others can hear it as well. We just put out release number 16, Angerpath's -Forgotten World. Great stuff

9. you are also very busy with LIVIDITY. in fact, you're busier in Lividity than
ever , releasing tons killer stuff, playing Europe so often. Tell us about your
involvement in Lividity.

- Lividity is very busy, which is great. We are currently writting the material for the new abulm, " To Desecrate and Defile" and we are about 6 songs into it. It's sounding great!!!
Yes we are alos doing a lot of overseas stuff. We head back in April for the European Tour again, then in Austria for Kaltenbach Fest. Maybe one more fest, but we are also hitting the studio in June to start the recording, then release the disc hopefully around Sept, then a 7 day tour for Canada in October!! So busy it is..

10. with Epitomite , Lividity , do you still have time for Deaden ? What future hold
for Deaden ? Any plan ? Compare to both , you said there are less happening in
Deaden ? Will you give us guarantee that your other activities will not '
deaden' the band ?

- Yeah Deaden has definitely kinda fell off a bit again. But if the guys aren't totally into doing the shows then it makes more sense to do it with Lividity. It's ok with me. I don't really mind as long as I am staying active somewhere is all that matters.


11.with Lividity, you often play aboard. How about with Deaden? Does Deaden
have the same chances? When will you guys show the displaying the art of
carnage in the front of Indonesian metal freaks?

- Well we need to get Lividity in front of you freaks as well hahaha. But yes there have been show and tour offers for
Deaden overseas and all over as well. But I don't think it will happen anytime soon.

12. the last one, tell us the upcoming stuff from you Von ( Deaden/Lividity/Epitomite productions), thanks for the time keep up displaying the art of sickness

- Thanx man I appreciate the support on all fronts. Nothing really upcoming at the momment for Deaden, but be on the lookout for the new Lividity next year. Epitomite releases coming in 2009 are Viscera Trail's new one and also Domination Through Impurity's new album (featuring Joe Payne/Ex-Nile and Divine Heresey)

Check these spots out for more info on all
www.myspace.com/deaden
www.myspace.com/lividity
www.myspace.com/epitomite
www.epitomite.com

Thanx and keep it sick!!!!
EPITOMITE PRODUCTIONS
PO BOX 286
BONDVILLE, IL
61815 - USA
Available now
LIVIDITY- LIVE FORNICATION CD
LIVIDITY- Til Only the Sick Remain CD
DEAD FOR DAYS- Disassociated From Reality CD
OUT JULY 2008
IMPETIGO- LIVE TOTAL ZOMBIE GORE HOLOCAUST!!!!!

www.epitomite.com
www.myspace.com/epitomite


interview by Krisna Baskara




Indogrindistro menyediakan beragam kaos metal import/lokal, CD import/lokal, Hoody import serta pernik-pernik asli/bukan bajakan, agar kamu kelihatan lebih percaya diri dan Metal! klik disini



Artikel yang Direkomendasikan oleh Pengunjung Lain:

LED ASTRAY, FARASU, THREE VICTIMS, DROSOPHILA, BEHEMOTH-DEMIGOD, DEICIDE, SPAWN OF POSSESSION, BLOODBATH, GRINDCORNER COMPILATION, SIKSA KUBUR INTERVIEW, CARA BUAT MYSPACE, DEATH VOMIT, DEATH VOMIT INTERVIEW, KAMPFAR, ANGTORIA, MORBIDDUST, SIKSA KUBUR-PODIUM, DARK TRANQUIILLITY-CHARACTER, DARK TRANQUIILLITY-FICTION, NILE-ITHYPHALLIC, JASAD-ANNIHILATED THE ENEMY, ERROR SAAT MENGUPLOAD GAMBAR, DISMEMBER, DISAVOWED, INDOGRIND, JASAD INTERVIEW, METALHEAD FUNDING SUPPORT, ABORTED, KEKAL INTERVIEW, DIMMU BORGIR, COPY PASTE, VITAL REMAINS, ATROCITIES 5 WAYS CD

Interview Deaden
Reviewed by
I Nyoman Sastrawan, SE
on
9:52 AM
Rating: